I think it is now time for me to grab a bag and head west, young man, And like many others, Las Vegas is the place to be at this time of the year.
Because the fall season is coming, and the humidity is easier to deal with. In addition, you can find great deals online and live like a King.
No matter the size of your budget, guests visiting Las Vegas don't have to settle for a subpar stay. With these higher-end suites, you can experience the sophistication and indulgence that Las Vegas has to offer.
Here are the top Suites in Las Vegas to consider while surfing online for hotels.
1. Bellagio: Chairman's Suite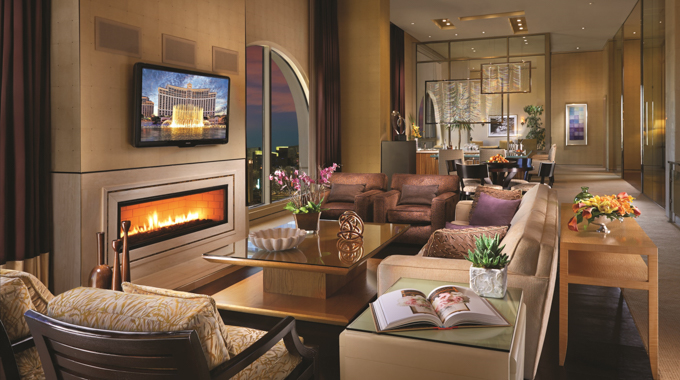 Living area of the Chairman's Suite at Bellagio Hotel & Casino. Photo courtesy MGM Resorts
At an astonishing 4,075 square feet, the Chairman's Suite is among the most impressive spaces at the Bellagio. Everything from the modern artwork to the comfortable, inviting furniture is custom-curated—even meals.
Standing in the glass-fronted dining room with seating for 8, I learn that suite guests can order room service from any Bellagio restaurant—even fine-dining establishments that don't typically provide carryout service.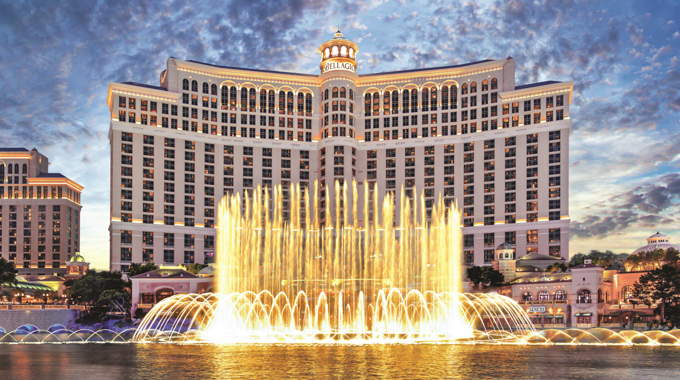 The suites at Bellagio offer the perfect blend of beauty and elegance. Photo courtesy MGM Resorts
"A lot more guests would rather dine in than out," says Jenny Hsieh, Bellagio's director of villa services. But, she points out, "Nothing is going to come in a to-go container." Everything is plated by Bellagio chefs before the butler serves it in the suite.
The suite's solarium is the perfect place to unwind in comfortable and relaxing surroundings. It has unparalleled views of the famous Fountains of Bellagio and, across Las Vegas Boulevard, the Vegas version of the Eiffel Tower.
Two master bedrooms are decorated with hand-selected furnishings, fireplaces, sensuous fabric wall coverings, and bold artworks. Eucalyptus wood is used in many of the furnishings. Along with the organic carpeting, this choice helps reduce the carbon footprint.
Fountain at the Cypress pool at Bellagio Hotel & Casino. Photo courtesy MGM Resorts
The miniature bottles typical of most hotels are nowhere to be found. Here, the amenities include full-size bottles of luxe Molton Brown lotion, shampoo, and conditioner. They add to the feeling of being in a richly appointed retreat rather than a hotel with nearly 4,000 rooms.
When it comes to special guest requests, "We usually can do anything they ask," says Nicholas McGinnis, Bellagio's director of hotel operations, adding that recently, "We had to change out an entire toilet to accommodate a guest." Saying "no" is not part of MGM Resorts' vocabulary.
2. ARIA: Executive Hospitality Suite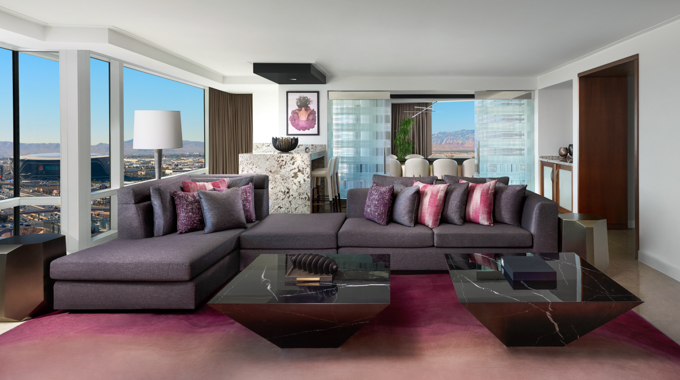 Living area of the Executive Hospitality Suite at ARIA Resort & Casino. Photo courtesy MGM Resorts
Need to work or want to entertain during your Vegas visit? The Executive Hospitality Suite at AAA Five Diamond ARIA is a perfect match—if you can pull yourself away from the views of the Strip.
As you enter through an inviting stone foyer, the 2,000-square-foot suite reveals itself. There's a conference room with space for 12 and full connectivity via a 42-inch TV. Furnished in tones of purple and white, the living room is great for gatherings and includes a wet bar with a fridge and minibar.
In the bedroom, the custom-made king bed is enveloped in 300-thread-count sheets. The bathroom includes a granite, dual-sink vanity, a steam shower, a whirlpool tub, and a separate toilet room.
The accommodation features views of both the pool area and the mountains. Guests get special access to the resort's fitness center and preferred tee times at Shadow Creek Golf Course, which designer Tom Fazio describes as "without a doubt, one of the most unique golf course experiences in the world."
3. MGM Grand: Skyline Terrace Suite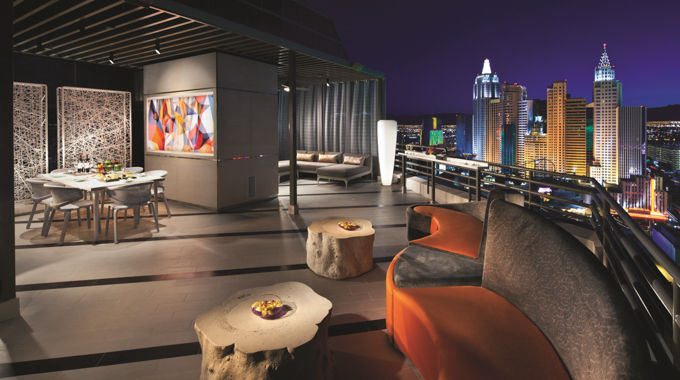 View from the patio of the Skyline Terrace Suite at MGM Grand. Photo courtesy MGM Resorts
The 2-story, 1,300-square-foot Skyline Terrace Suite at MGM Grand Hotel and Casino has a luxurious living room, dining area, and master bedroom and bath. But you'll want to spend most of your time on the 786-square-foot terrace. With a dining area and comfortable lounge seating, it's a perfect place to soak in breathtaking views of the Strip.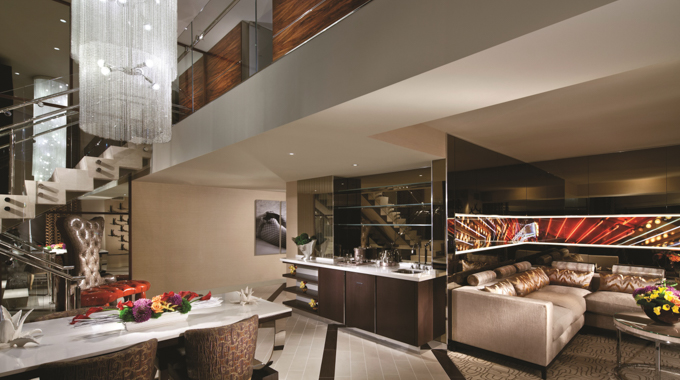 Living and dining areas of the Skyline Terrace Suite. Photo courtesy MGM Resorts
The suite has a sleek, modern feel. It has modern furnishings and features, such as an electronic wall of colorful art in the living room and digital panels to control both the lights and window coverings. There's also a powder room on the first floor.
The master bedroom and large bath—with a whirlpool tub and a red-and-white-tiled shower complete with upscale toiletries—are on the second floor. That gives guests needing a bit of shut-eye some separation from the downstairs living area and its media hub, which connects virtually every conceivable device to a large TV.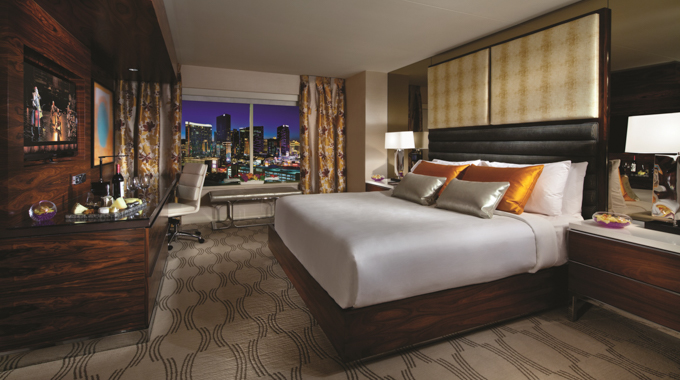 Skyline Terrace Suite bedroom. Photo courtesy MGM Resorts
Although the suite has power-controlled blackout curtains, keep them up in the evening. You'll want to catch the view of the Strip's nighttime lights before turning in for the evening. These suites—there are several in this category—are on high floors of the resort to provide ideal outdoor viewing.
4. Luxor: Tower One-Bedroom Penthouse Suite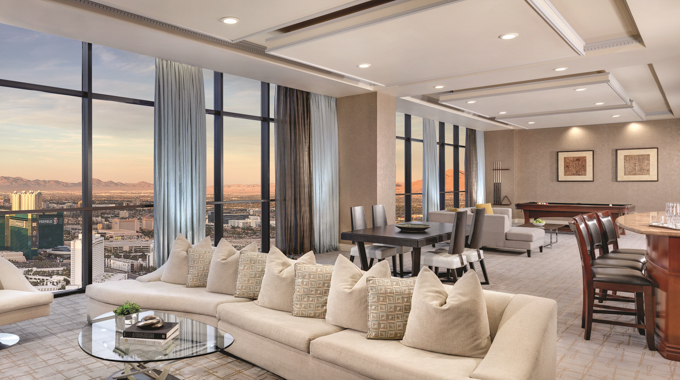 Living area of the Tower One-Bedroom Penthouse Suite at Luxor. Photo courtesy MGM Resorts
Luxor's commanding Tower One-Bedroom Penthouse Suite is fit for a pharaoh. With 3,000 square feet of space, you'll have plenty of room to stretch out and luxuriate in the separate living room and bedroom areas. Unpacking is a breeze since, surprisingly, there is a walk-in closet.
In the master bathroom, a convenient dual-sink vanity is joined by a large shower and a raised soaking tub that overlooks the airport, where you can watch planes land and take off.
The living room is a great place to entertain and hang out. Two spaces with their own sofas and TVs are separated by a dining table. Vaulted ceilings and floor-to-ceiling windows add a sense of airiness to the comfy setting. It has a dining area, a marble wet bar with dark wood accents, a seating area, and even a pool table. The butler's pantry has a full-size refrigerator, microwave, and sink.
5. The Cosmopolitan of Las Vegas: Bungalow Suite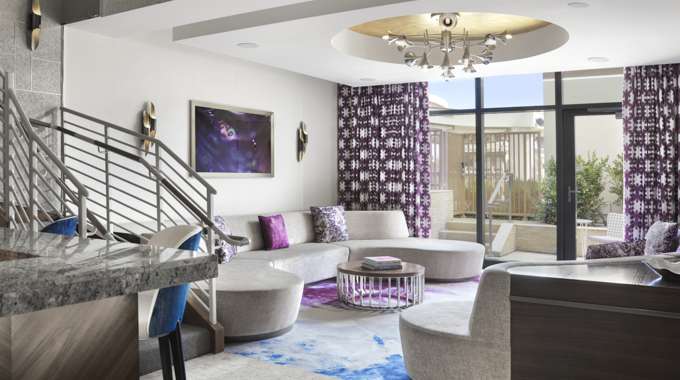 Living area of a Bungalow Suite at The Cosmopolitan of Las Vegas. Photo courtesy MGM Resorts
The Cosmopolitan has several Bungalow Suites, but for some added indulgence, try to snag Bungalow Suite No. 10. This particular suite—1,695 square feet sprawled over 3 levels—has its own elevator.
Given that it sits beside the sprawling Marquee Nightclub and Dayclub, it's no surprise that this spacious suite is available only to guests 21 and older. Fittingly, the first level is devoted to a large media lounge and party room where you can hold a reception for 10.
The immense master bedroom and bathroom are on the second level. The master bath boasts marble floors and a double-sized shower.
On the third level, you'll have a choice of relaxing in 2 private outdoor spaces: a 750-square-foot terrace and a 135-square-foot patio. One offers a dramatic panorama of the Fountains of Bellagio. The other, which has its own heated plunge pool, overlooks the Marquee Dayclub Pool and DJ stand. Around-the-clock butler service is included.
6. Mandalay Bay: Moorea Suite
Living and dining areas of the Moorea Suite at Mandalay Bay. Photo courtesy MGM Resorts
Furnishings in vibrant shades of blue, orange, and brown create the feel of a tropical oasis in the 1,440-square-foot Moorea Suite at Mandalay Bay Resort and Casino. The dining table seats 8, and the designed-for-entertaining living space can seat as many as 21. The living space includes a 55-inch TV, a powder room with a half-bath, and a pantry with a refrigerator, Keurig coffee machine, and minibar.
In the bedroom, guests can quickly unwind watching the 40-inch TV or nodding off atop a Simmons EverNU pillow-top mattress. The bathroom features imported stone surfaces, twin vanities, and a separate WC. Guests enjoy complimentary access to Spa Mandalay.