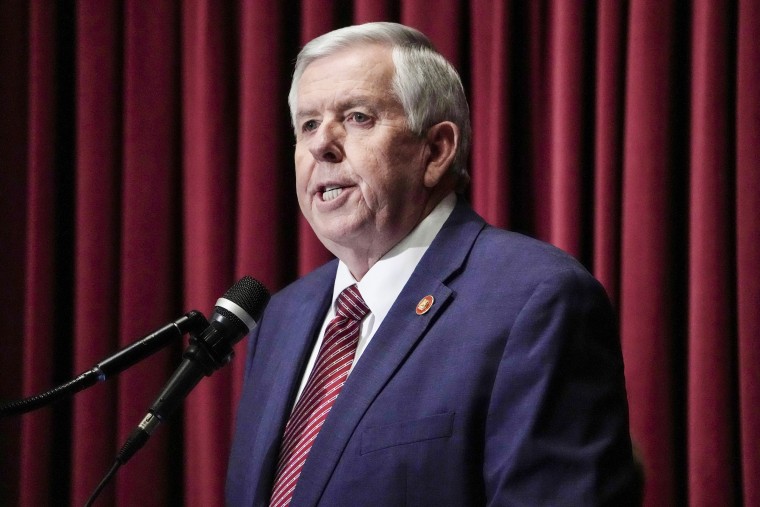 JEFFERSON CITY, Mo. — Transgender minors and some adults in Missouri will soon be limited from accessing puberty blockers, hormones and gender-affirming surgeries — as well as some school sports teams — under bills signed Wednesday by the state's Republican governor.
Beginning Aug. 28, Missouri health care providers won't be able to prescribe those gender-affirming treatments for teens and children. Most adults will still have access to transgender health care under the law, but Medicaid won't cover it.
Gender-affirming surgeries for inmates and prisoners will be outlawed.
The law is set to expire in 2027 as part of a Republican compromise with Senate Democrats.
Gov. Mike Parson also on Wednesday signed legislation that would ban transgender girls and women from playing on female sports teams from kindergarten through college. Both public and private schools face losing all state funding for violating the law.
Parson called on the Republican-led Legislature to pass the bills in the final weeks of its session and threatened to keep them working past their May 12 end date if they don't.
Republican leaders of the House and Senate pledged months ago to pass the bills, but the chambers disagreed on how restrictive the bans should be.
The House ultimately took up the Senate's toned-down version of the health care bill, which includes an exception that allows transgender minors to continue receiving gender-affirming health care if they have already started treatment.
Missouri's bans come amid a national push by conservatives to put restrictions on transgender and nonbinary people, which alongside abortion has become a major theme of state legislative sessions this year.
A legal challenge to the laws is possible. When the Legislature first passed the bills, the ACLU of Missouri said it "will continue to explore all options to fight these bans and to expand the rights of trans Missourians."
The state's Planned Parenthood clinics have been ramping up available appointments and holding pop-up clinics to start patients on treatments ahead of the law taking effect.
"We will continue to do everything in our power to ensure all patients are supported, seen, and cared for," said Yamelsie Rodríguez, president and CEO, Planned Parenthood of the St. Louis Region and Southwest Missouri, in a statement. "Any patient wanting to continue their gender-affirming care in a state that welcomes people of all identities: our Fairview Heights, Illinois, health center is open to you and we are here to help you make plans to get care."
Missouri Attorney General Andrew Bailey, a Republican now campaigning for re-election, launched an investigation in February into St. Louis' Washington University Transgender Center. A former staffer had complained that doctors were prescribing hormones too quickly and without enough mental health wraparound services. An internal Washington University review found no malpractice.
Bailey has since expanded his investigation to any clinic offering pediatric gender-affirming care in Missouri, and demanded records from a St. Louis Planned Parenthood where doctors provide such health care.
In April, Bailey took the novel step of imposing restrictions on adults as well as children under Missouri's consumer-protection law. A judge temporarily blocked the limits from taking effect as she considers a legal challenge.
Featured image: Missori State Parks